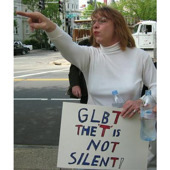 NCTE's Mara Keisling finds solid reasons for optimism in spite of Obama's ENDA disappointment and other setbacks, plus she adds to her wide-ranging remarks on Melissa Harris-Perry's recent MSNBC "Being Transgender in America" roundtable discussion. Mara is Becky's guest in Hour 2.
Hour 1 Becky brings you the latest news and comment, plus classic opinion, and quality music made by our community. She even has something surprising to say about Fox talking head Bill O'Rielly. Join us!
The Rebecca Juro Show Podcast is a critical and transformative work that constitutes a Fair Use in accordance with Title 17 U.S.C. Section 107.