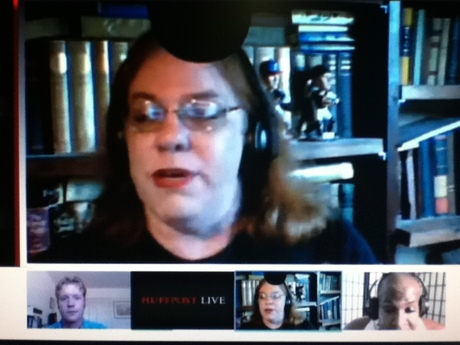 Becky Sounds the alarm on Arizona SB1045, a bill which significantly harms transgender people and could spawn similar measures in other states. Working on the ground is Becky's guest, Arizona Attorney Abigail Jensen, and we hear from organizer Toni D'Orsay. This episode also features caller John Becker with observations from the HRC actions around a trans flag at this week's SCOTUS DOMA hearing. This one's a jam packed, wild ride!
Note: we're no longer able to include the complete music from the www.q1.fm live show in Becky's podcasts, but the remarkable songs of our trans artists are streamed 24/7 at T-Plus on Live 365. It's the only exclusively trans music artist station in the world!
www.live365.com/stations/q1dotfm
Fair Use Notice:
This transformative remix work may contain fair use of copyrighted material as provided for in Section 107 of the US Copyright law.
Open and closing themes are provided with the kind support of Arlin Godwin and Delphinium Blue, available on iTunes.